9 drinks, 8 burgers, and 3 sides? Challenge accepted! The ultimate Umami tasting menu is not for the weak, and the four of us went for it head on! The tasting menu is meant to be shared family style between four people for a $95 total (so around $25 per person). With that, each person eats a total of two burgers and sides, which is extremely reasonable once you divide up the prices! Not only that, you also get to try almost all of their burgers on the menu! I would also recommend the beverage pairing at $175 total for 4 ($44 per person)- for $19 more, you get 9 rounds of various drinks to sip and savor.
We started out with their sides: thin fries, sweet potato fries, and tempura onion rings. These dishes were served with their house made sauces: diablo sauce, jalapeno ranch, garlic aioli, and house umami ketchup. The array of sauces were delicious- we could not stop dipping our sides into the different flavors! My personal favorite was the house umami ketchup which had a hint of truffle in it as well as the diablo sauce as I love my spice! The garlic aioli was also a favorite of the table. The fries were crispy and soft in the right places, and the malt liquor batter of the tempura onion rings was perfection! We got a real sugar Mountain Dew to pair with these sides which tasted so much better than the regular Mountain Dew you get in stores!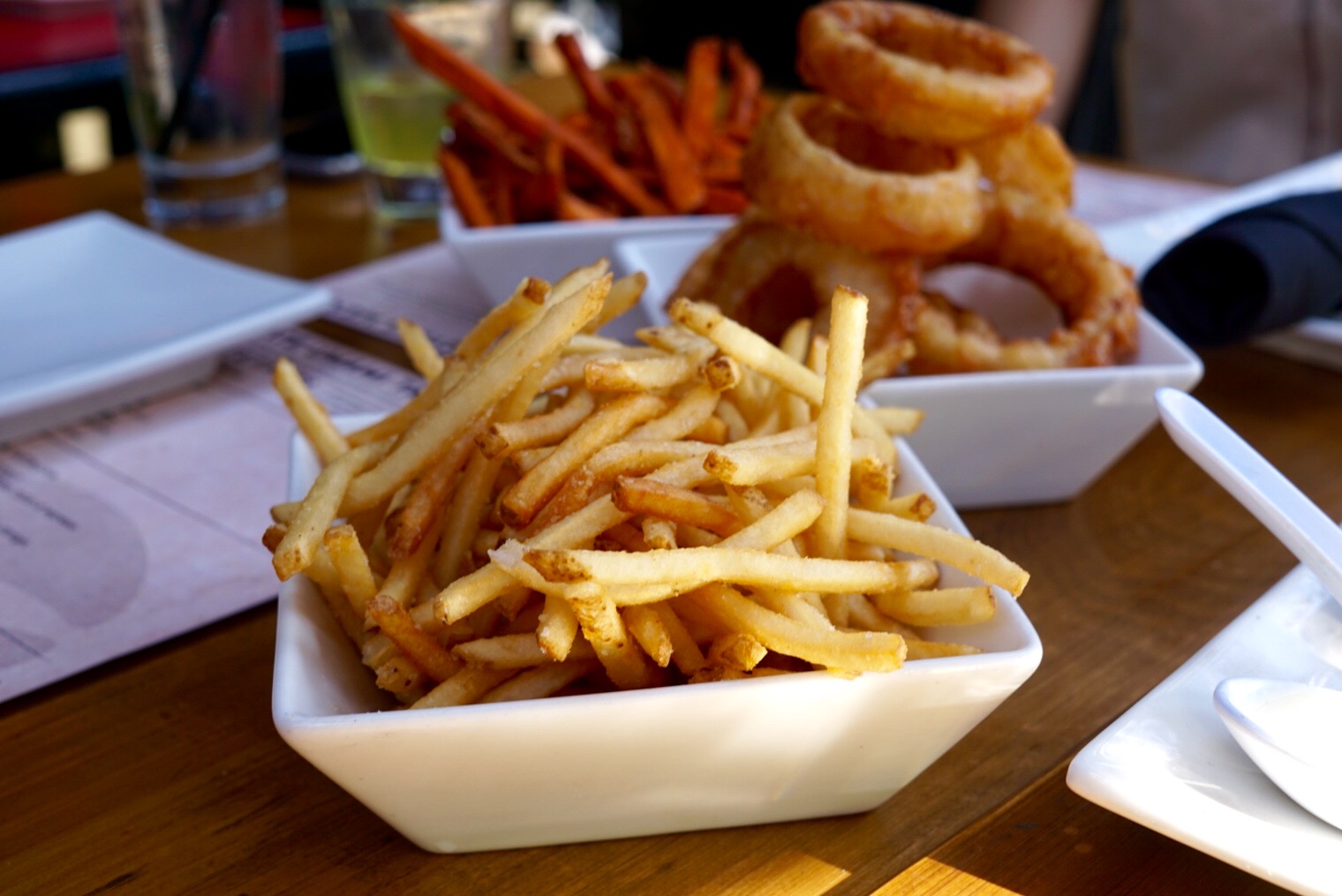 First burger: Truffle burger with truffled aioli, house truffle cheese, truffle glaze. The first bite was heavenly, and I loved how the cheese oozed out of the burger! We were still starving at this point, so this burger was devoured in seconds. This burger was paired with the Great Divide Yeti Imperial Stout; stouts are typically dark and bitter and this was no exception. I am personally not a fan of stouts, but I can see how it paired with the burger well!
The Manly burger with house beer cheddar cheese, bacon, lardons, smoked-salt onion strings, and Umami house ketchup mustard spread was next, and this was just my type! It did feel manly indeed, and this was one of my favorites especially with the drink pairing! Of course, you can't be a man without a maple bacon old fashioned which was tasty.
Burger three and still going strong! The Ahi Tuna burger with seared ahi tuna patty, daikon, sprouts, crushed avocado, gingered carrots, wasabi flake, and wasabi tartar was a light and refreshing burger compared to the first two. The carrot added a nice crunch complement to the ahi, and the fish was fresh! This burger was paired with the Victory Golden Monkey (all the way to the right in the photo below). This beer was lighter than the stout which I found perfect for this burger!
The Hatch burger with roasted hatch chiles, house cali cheese, and roasted garlic aioli had a nice kick to it! It reminded me of a Mexican fusion burger but even better. This was paired with the Velvet Mule which included Tito's Handmade Vodka, velvet falernum, fresh lime juice, ginger beer, bitters, and mint. The drink was another highlight of the meal- I love how they added a touch of velvet to it! At this point, we all devoured one burger each and we were starting to slow down.
Turkey anyone? The Greenbird burger with turkey patty, crushed avocado, green cheese, butter lettuce, sprouts, and green goddess was my friend's go to burger when she visits Umami, and I can see why! This is her healthy alternative, and I've never had such a yummy turkey patty! Add avocado and cheese- it's a win for me! This burger was paired with a light and crisp white wine, the 2014 Laurenz Gruner Vetliner.
Really starting to slow down at this point... the Cali burger with butter lettuce, roasted tomato, carmelized onions, house spread, and house cali cheese was a blur to me. We were starting to question our life decisions, which was uncanny timing for the Spicy Mezcalrita with Lunazul blanco tequila, pomegranate liqueur infused with cucumber and serrano pepper, fresh juices topped with Xicaru Mezcal and Cointreau foam. The drink had a kick to it, and it woke us up out of our daze!
Time for a throwback.. to another burger! The Throwback burger with two 3.5 oz seared beef patties, white cheddar cheese, miso mustard, Umami house ketchup, soy pickles, and minced onions was my favorite hands down! The two patties were so succulent and just dripping in juice.. Even though I was stuffed, I finished my portion! My mouth is watering talking about this.... the burger was paired with real sugar Pepsi (not pictured) which was fitting!
Last but not least, the famous Umami burger with parmesan frico, shiitake mushroom, roasted tomato, carmelized onions, and Umami house ketchup. We were completely done from the Throwback burger, so we ended up taking this one to go. This was paired with the 2013 Seghesio Zinfandel (not pictured).
We ended up almost finishing two burgers, which is pretty impressive in my opinion as the tasting lasted around 2 hours (more reason for the food to settle in). Truth be told, we weren't able to finish our beers, but I definitely finished all of the other drinks! My friends and I had a wonderful experience with the tasting menu, and I'm so glad I got to try basically every burger at Umami as I would not have tried them otherwise! Thank you Umami for having us, this meal is definitely one for the books!