When planning a trip to visit Vietnam, Nha Trang is usually not at the top of the list as compared to Saigon, Ha Long Bay, etc. As one of the more underrated cities, I did not know what to expect when I flew from Ho Chi Minh city to Nha Trang. Upon arriving to the city, I immediately noticed the vast difference between the two; Ho Chi Minh embodies city life while Nha Trang is a definite beach town with a very laid back vibe.
For the duration of my visit, I stayed at the Sheraton Nha Trang. This was easily one of my favorite rooms throughout my Asia trip as you get a beautiful view of the ocean (including the restroom where you can sit and enjoy the view while... using the restroom haha.) There is also an infinity pool, a rooftop bar with an amazing view of the ocean and island, as well as a breakfast buffet with continental and traditional Vietnamese dishes! The location is very central next to many hot spots, and Uber in Vietnam are very cheap (around $1-$2 per ride).
In terms of things to do, one of the most popular destinations is Skylight in Nha Trang. Not only does the observatory deck double as a restaurant and bar, they also have an outdoor club with live DJs spinning at night. Super unique and fun concept on the rooftop of Habana Hotel. The food and cocktails were top notch, too!
For daytime activities, we went on a Vespa Tour around Nha Trang. We started out at Cong Caphe, which is one of Vietnam's most popular coffee shops with a very traditional atmosphere. They're known for their iced coconut milk with coffee- and it was a very refreshing and delicious slushie! From there, we visited temples, the big white Buddha, had lunch by the river, saw the lotus flower fields, and more. There was so much to see in Nha Trang, I feel like we couldn't fit it all in one day (but we tried to).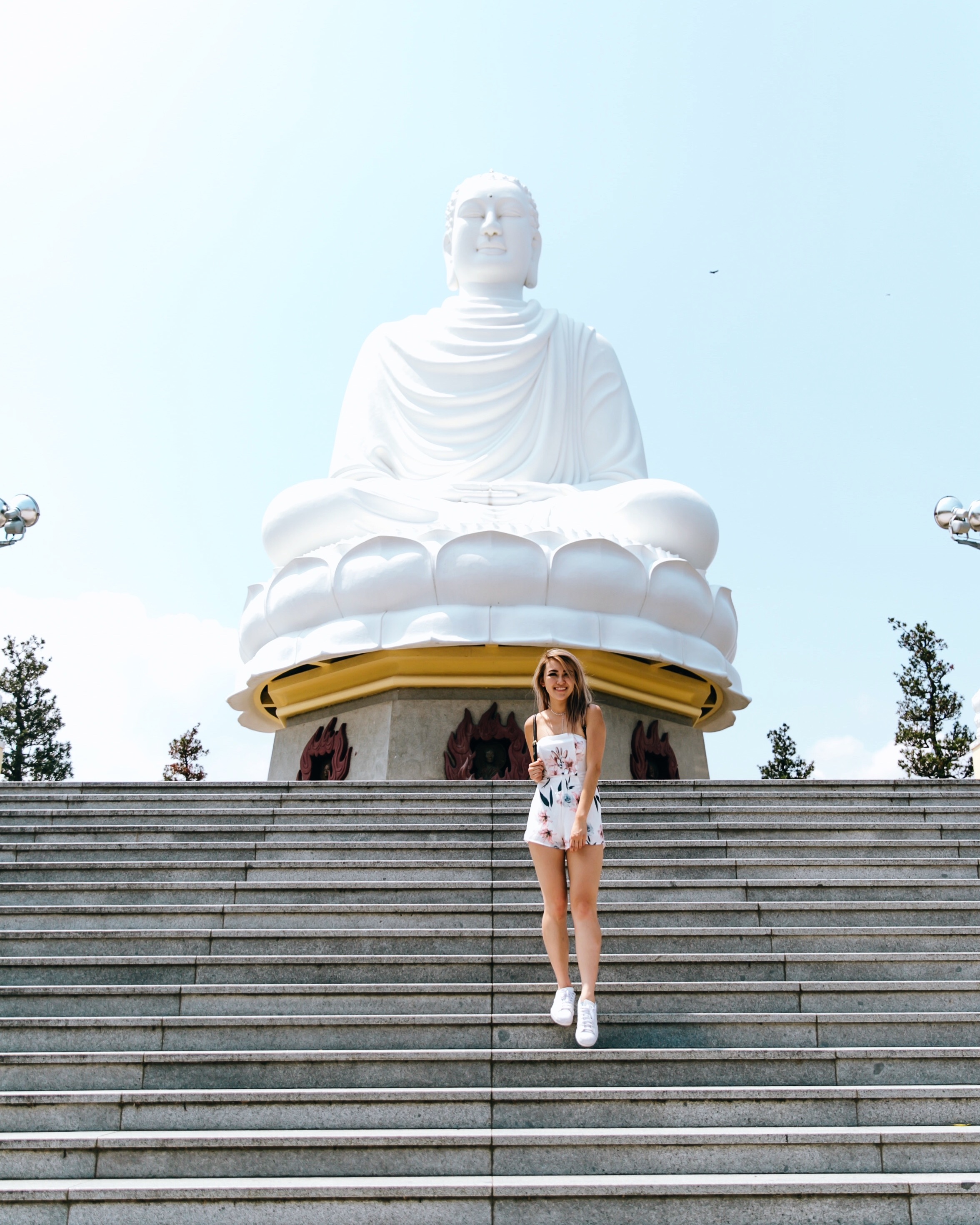 The highlight of the day was a personal tour we had at night with a mutual friend we met up with in the city, TK. He showed us all of the local food spots and cafes around town. We had the BEST pho with egg and these little Egg McMuffin type things (not sure what it's called).
Since we were headed back to Saigon the next day, we woke up early in the morning to treat ourselves! We got to experience iResort's mud baths, which are popular in Nha Trang, as well as a massage, which was so cheap compared to the states!
I wish our trip to Nha Trang was much longer as I felt like there was still so much to do, but I'm glad I got to stop by during my Asia trip! I definitely want to return again soon to explore more, as there's so much going on! Until next time~